Integrated Panel equipment
Features:
1. Bamboo wood fiber wallboard has the same processing performance as logs. It can be nailed, drilled, cut, bonded, fixed by nails or bolts. The surface is smooth and delicate, no sanding and paint.
2, wood-plastic decorative wallboard has better physical properties than logs, better dimensional stability than wood,
no cracks, warpage, no wood knots, twill, can be made by adding coloring agent, film or composite surface layer.
A variety of colorful products, so no regular maintenance is required.
3. Wood-plastic integrated wallboard has excellent performances such as fireproof, waterproof, corrosion,
moisture resistance, no insects, no long fungus, acid and alkali resistance, harmlessness and pollution, and low maintenance cost.
4, wood-plastic integrated quick-installing wallboard has a similar wood appearance in use, higher hardness than plastic,
long life, thermoplastic molding, high strength and energy saving. The product is firm in quality, light in weight, heat-insulated, smooth and smooth, and non-polluting.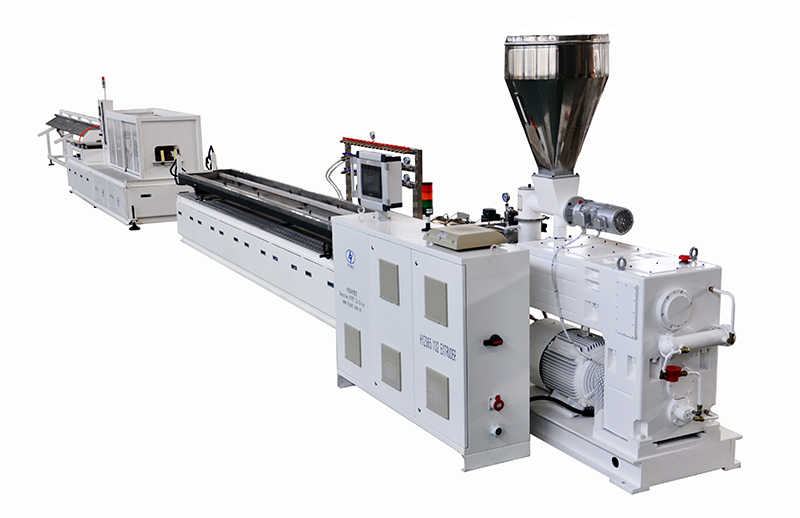 Product introduction:
According to the actual size measured on site, we can make the substrate in advance at the factory and transport it to the construction site for quick installation.
This requires that all materials be "modular", and the basics of modularity are "standards", and with standard parts, they can be assembled arbitrarily.
The standard "seven step" are the basic pieces of wall decoration. With them, we can spell out countless gorgeous walls.
1. The top line;
2, the sideline;
3, wall panels;
4, waist line;
5, decorative lines;
6, the baseboard;
7. Angle line;
Production line composition:
1 conical twins extruders
2 extruder gum
3 vacuum setting machine
4 haul off
5 cutting machine
6 stock machine
The production line adopts intelligent control, high degree of automation, stable operation, easy operation and high production efficiency. In addition, our company has always adhered to customer-oriented, always implement the "turnkey" program to provide customers with on-site installation and commissioning production as well as training and raw material formula. Ensure that customers can independently stabilize production.